Web Exclusives
By Audrey Fraizer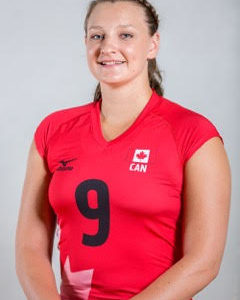 If you've ever watched the movie "Miracle," about the U.S. Hockey team's defeat of the heavily favored Soviet team at the 1980 Lake Placid (N.Y.) Olympic Games, a scene midway into the movie aptly portrays a pivotal moment contributing to their win.
"Who do you play for?" Coach Herb Brooks asks team captain Mark Eruzione during a break in a prolonged and brutal practice training session readying for the Olympic Games.
"We're playing for the United States of America," says Eruzione, who scored the winning goal against the Soviet Union in the Olympic semifinals.
Danielle Ellis would answer in much the same vein if asked, although rather than the U.S., she would without hesitation respond, "We're playing for Canada."
But you don't need to ask. When talking about the sitting volleyball team going to the Paralympics in September, she's all over the "team" spirit.
"We're pushing the same goal, and it's pretty amazing to go through this working as a team," said Ellis, who plays the position of setter on the team. "We're going in as underdogs, but we're a lot better than people think. We're ready to show the world just how great Team Canada is."
This is the first time the women's sitting volleyball team from Canada has qualified for the games.
Ellis is a dedicated volleyball player and an EMD for the British Columbia Ambulance Service (BCAS), in Langley, Canada. The 24-year-old superstar said she started playing standing volleyball "when a kid" and, in 2007, at age 16, she was recruited to play sitting volleyball for the then recently organized Paralympics national team.
Though honored, Ellis was initially hesitant to join the team. She's a known power hitter in standing volleyball, and she never thought of playing the game sitting down on the court floor. It never occurred to her that wearing a prosthesis on her right leg from the knee down should make a difference with anything she did.
"My leg has never been an issue," said Ellis, who was also a soccer player and gymnast. "My parents put me in sports when I was little. There was no question. It's always been a very normal thing."
The national sitting volleyball coach persisted. They needed a power hitter of her caliber and encouraged Ellis to observe the team in action. Watching them made her realize there was more to sitting volleyball than she had anticipated; plus it offered unmatched possibilities.
"I could play for my country," Ellis said. "No words can describe how amazing it feels to be on a team that plays for your country."
Going from standing to sitting volleyball required new ways of playing the game. In sitting volleyball, the net is about 3.5 feet high, and the court is 10 by 6 meters with a 2-meter attack line. Players are allowed to block serves, but one "cheek" must be in contact with the floor whenever they make contact with the ball, according to Paralympics rules.
Ellis, who lost her right leg below the knee due to cancer as an infant, was on the Canadian squad from 2008 to 2012. When the team did not qualify for the London 2012 Paralympic Games, Ellis left to focus on her studies at the Justice Institute of B.C. in New Westminster, B.C. She is a certified and licensed paramedic.
Once finishing school, she applied for an opening in dispatch, and during this past spring, she was invited to try out for the national team once again, landing one of the dozen roster spots. The team trains together one weekend each month, and during this past year it traveled extensively in tournament play. She goes to the gym for strength training and conditioning and practice, and continues to play standing volleyball.
Ellis said the sport drives her, and as the games draw closer, it tends to dominate her thinking, at least when she's not at the communication center.
"I can separate the two," she said. "My mind makes the switch. I put 100 percent into everything I do."
You can bet BCAS is rooting for its star volleyball player, and because she wears slacks at work, no one knew until this spring that she wore a prosthetic. The prosthetic does not enter her conversation, and it's certainly not how she identifies herself. She's elated that the Canadian women's sitting volleyball team will attract an audience in Rio.
"Winter Olympics are really our thing in Canada," she said. "It's really nice to know that people from home will be watching and cheering us on."
The women's National Sitting Volleyball Team took bronze at the Parapan Am Games in Toronto in August 2016, which qualified them for the Rio 2016 Paralympic Games. Canada's women will play host Brazil along with Ukraine and Russia in Group A. Games open Sept. 7 and run through Sept. 18.
The 12-member squad, led by head coach Nicole Ban, includes: Ellis, Chantel Beauchesne, Angelena Dolezar, Leanne Muldrew, Jennifer Oakes, Shacarra Orr, Heidi Peters, Tessa Popoff, Amber Skyrpan, Felicia Voss-Shafig, Jolan Wong, and Katelyn Wright.
Check back in a few weeks to see how Danielle and the Canadian National Team did at the Rio 2016 Paralympic Games.
More Articles
Emphasis should be on ventilations and compressions initially
Equation calculates staggering amount of time saved not waiting for possibly lifesaving aspirin