High Emotions
June 25, 2019
Your Space
Josh McFadden
From a first-time call to the tragic loss of a colleague, the team at Medstar Ambulance in Sparta, Illinois (USA), saw both ends of the spectrum during one week this past March.
Emergency dispatcher Tori Kelley was in the thick of all of it.
Kelley, who has been at Medstar for two years, has taken a wide range of calls during her tenure but never one like the one she took in early March. When the call was transferred to her, she knew right away that time was of the essence. A mother was in labor on her couch at home, and the baby was already crowning when Kelley jumped into action.
She faced some challenges right away.
"When I first came on, I heard a lot of screaming in the background," Kelley said. "It prepared me and told me we needed to get someone there now."
Not only was the patient screaming from the pain, but family members were making lots of noise in the background, making it difficult for Kelley to hear what the caller was saying and for the caller to hear her instructions.
To make matters more complicated, the caller was struggling to maintain her composure, even though she was trying to listen and do what Kelley was telling her. Kelley said she used customer service techniques to calm the caller.
"The caller wanted to help, but she was pretty worked up and not sure exactly what to do," she said. "She was trying to block out the noise too. I had to reassure her and let her know that crews were on the way as fast as they could get there."
This fast-paced call resulted in the baby coming in less than five minutes after Kelley took over. The baby was completely born by the time crews arrived. Kelley was relieved the baby had been successfully delivered, but she soon turned her attention to other matters.
"The hard part was over, but my next concern was how mom and baby were doing," she said. "I had to find out if they were breathing or bleeding."
Though the mother had some bleeding, there were no serious complications.
She and her new bundle of joy were transported to the hospital. Kelley's last information was that both were doing just fine under doctors' and nurses' care.
After ending the call, Kelley had a moment to reflect on the delivery.
"I was excited to know that I got to help bring a life into the world, even though it was nerve-wracking," Kelley said. "It was a blessing to know that mom and baby were safe."
Great work runs in her family. Kelley is the granddaughter of Medstar founders Charles and Deb Kelley. Current company Vice President Chuck Kelley and EMT Amy Kelley are her parents.
This call had a happy ending, but it came during a time when employees at Medstar had heavy hearts. That same week, longtime Medstar team member Deon Lee Davis unexpectedly passed away, leaving grieving friends and colleagues in disbelief and sadness.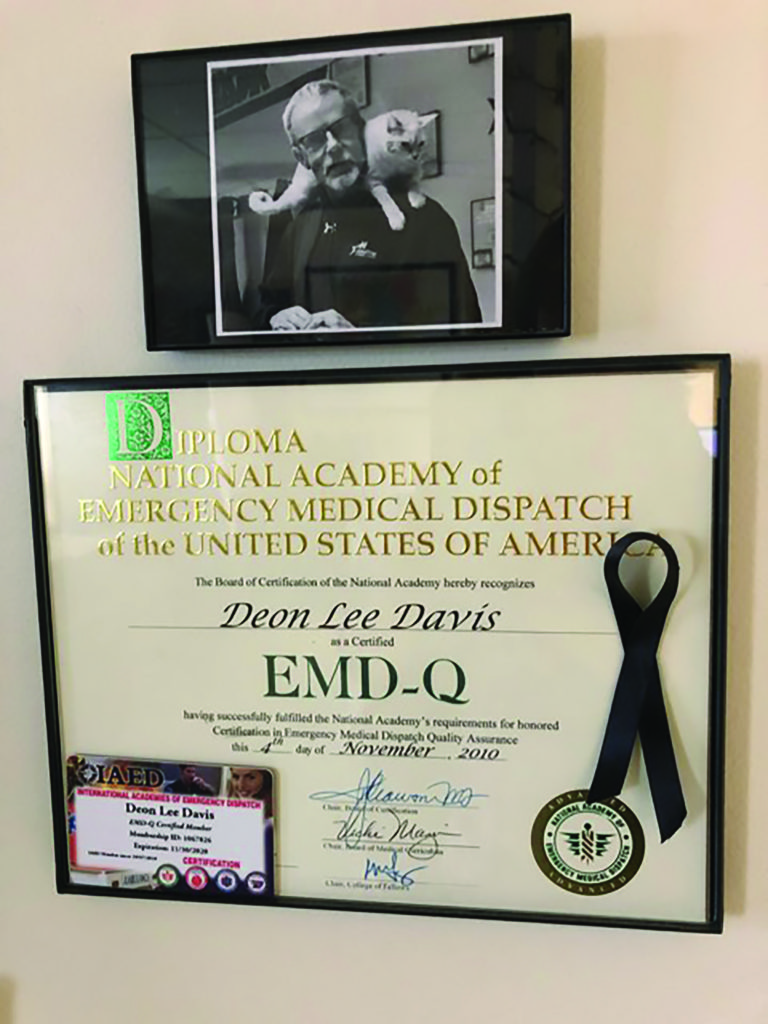 Davis had been an operations manager and paramedic at the center for 36 years. He was also an EMD-Q®.
"He was one of the very best people you'd ever meet," Hanna said.
Like any emergency dispatch center, the Medstar Ambulance comm. center is normally a bustling place with plenty of noise and activity. On the day when everyone learned of Davis' passing, Tori Kelley said the "silence was unspeakable."
Davis was much more than a co-worker to Tori Kelley; he was a close family friend. His death hit her hard, but it has given her perspective.
"It's been challenging for me," she said. "It makes you realize how precious life is. I'm trying to spend more time with the people I love. Just remember to tell those people close to you that you love them."
More Articles
Q advice delivered by the experts
Aims to reduce loss of life, protect callers