Good Coaching
December 3, 2018
Your Space
Audrey Fraizer
Nancy Aarsvold had a bad cold.
That's the last she remembers from the morning of Aug. 5, 2016. She was sitting on the couch sniffling and putting final edits into the second edition of her Norwegian language textbook when, suddenly, she had a burning smell sensation.
"I did a Google search to see what that might mean," Aarsvold said. "Before I had a chance to read further, I started to feel nauseous."
Fortunately, Aarsvold's wife, Stephanie Fay, was home. She heard a noise and found Aarsvold lying face down on the floor. She wasn't breathing, and it appeared she was gasping for air.
Fay unlocked the front door and called 911. Ramsey County Communications Center (St. Paul, Minnesota, USA) EMD Ken Hubin answered and started CPR instructions. Since Fay could not open Aarsvold's tightly clenched jaw, Hubin recommended she give compressions only. Fay continued compressions for 10 minutes until St. Paul Fire Department paramedics arrived and took over. Hubin disconnected and went on to the next call.
From past experience, Hubin had a picture of the story going on at the scene and what would happen next. For 23 years prior to emergency dispatching, Hubin was the reporter and photographer at Buffalo Lake News, a weekly paper his family owned and published in a rural town about 80 miles west of the Twin Cities. Hubin was also a volunteer EMT for the local fire department. As a reporter, he had been every place in the county and, as an EMT, he had frequently provided emergency medical assistance to people he had known all his life.
In addition, long hours at the newspaper—an average 80-hour week—prepared him for the 12-hour shifts and overtime in emergency dispatch. There's also the distinction of volume and recollection. News stories like 911 calls tend to run together, overlap, and get lost to memory. Hubin said it's not a matter of diminished importance.
"You move on to the next," he said.
He recalls a few details about the August 2016 incident. The audio recording of the call no longer exists since the Ramsey IT regularly purges folders to manage storage limitations.
"I remember she fell near the front door, but I have little recollection beyond that," he said. "The intervention was quick."
Hubin might have heard about ambulance transport to the hospital over the radio line. He doesn't remember. Like every other call, he figured he would hear nothing more.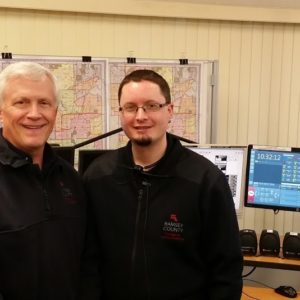 Eighteen months later he did. Fay and Aarsvold contacted the center in December 2017 and met Hubin face-to-face on January 3.
"It felt really good to meet him," Fay said. "It might have been routine for Ken but a rather extraordinary 10 minutes of our lives."
Aarsvold has since made a full recovery, which she attributes to a full chain of survival: Fay, Hubin, the paramedics, and the University of Minnesota hospital staff.
And it all started in the comm. center with a knowledge of CPR.
"Ken's coaching helped me be more effective and give better CPR, no doubt about that," said Fay, who had earlier certified in CPR.
Although Hubin valued being part of a small town's fabric, he recognized the benefits of living closer to the Twin Cities. He took an emergency dispatch position at a center in Maplewood, about a 10-minute drive from St. Paul, and turned over full interest in the Buffalo Lake News to his older brother John. Hubin's since been promoted to the medical/fire dispatch circle at the consolidated Ramsey County Emergency Communications Center, which receives more than a million emergency and non-emergency calls each year.
He is grateful to the couple for making the effort to meet him and grateful for the other EMS and medical professionals involved in Aarsvold's response and recovery.
"We rarely hear about outcomes, and this is a very good one," he said. "It's been a very positive experience."
More Articles
Now, more than ever, is the right time to learn how to control stress
Understanding Additional Info Definitions helps clarify when to use Protocol 135