18 Years And Counting
August 6, 2019
ACE Achievers
Josh McFadden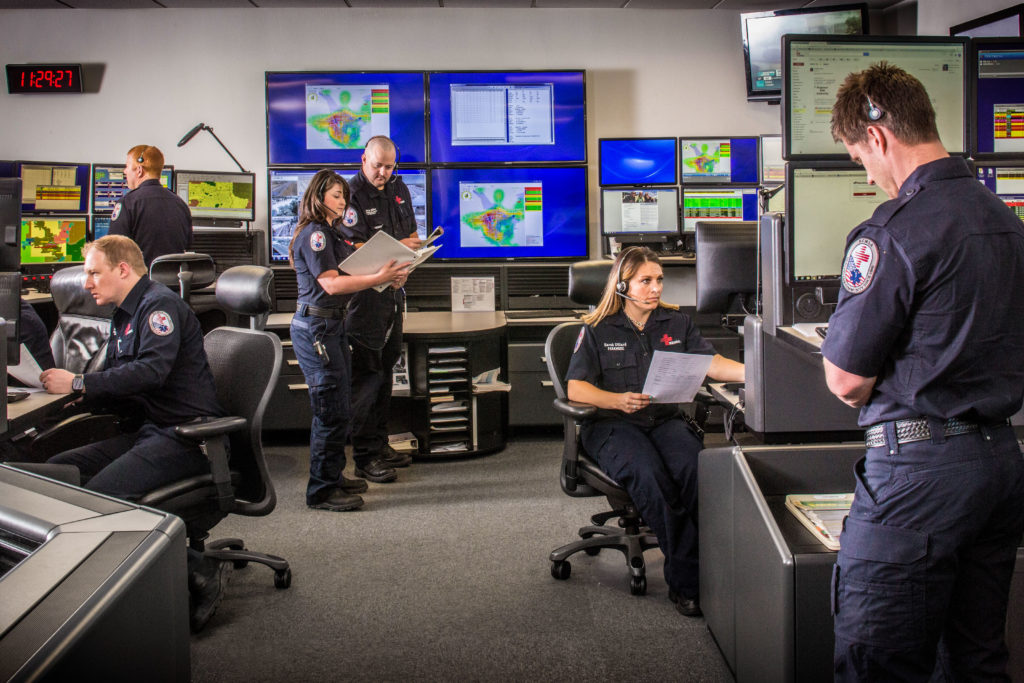 Accrediting as an ACE seven times puts a center in rare company, but that's exactly where the Regional Emergency Medical Services Authority (REMSA), in Reno, Nevada (USA), stands.
Founded in 1986, REMSA is one of just 11 agencies in the world to accredit as an ACE seven times. The center officially re-accredited once again in May 2019 as a medical ACE. It has continuously held this distinction for 18 years, meaning by the time this seventh accreditation expires in 2022, it will have been an ACE for 21 years.
Being in this elite company is something everyone at REMSA cherishes.
"REMSA has long acknowledged that patient care starts with the call," said Adam Heinz, Director of REMSA. "Earning accreditation demonstrates our commitment to high-quality, professional emergency dispatching. Through our partnership with the IAED™, we can say with certainty that for every patient within Washoe County that calls 911, there is a standardized, internationally recognized, evidence-based medical dispatch protocol being followed."
The 10 other seven-time accredited agencies are also medical ACEs, but REMSA has done something none of the others have accomplished: It is also an Emergency Communication Nurse System™ (ECNS™) ACE.
In fact, REMSA is one of just three ECNS ACEs in the world; the others are Northwell Health Clinical Call Center (in Syosset, New York, USA) and 144 Notruf Niederösterreich (in Sankt Pölten, Austria). Those other two centers are also medical ACEs, but they haven't re-accredited as many times as REMSA. Also, REMSA has been accredited twice for ECNS, making it the only center in the world to re-accredit in that discipline.
"To be honest, we are extremely proud of this accomplishment," Heinz said. "It's a real source of identity and pride for our team members; they know this distinction is unique in the industry, and they work hard to live up to that leadership standard."
Heinz also said the staff takes the achievement seriously and uses it as motivation to work hard and provide the best possible care to callers in need.
"As a team, we also recognize the significant responsibility that comes with being a dual-accredited center," he said. "There can be rough spots, but we remain committed. Plus, knowing we can lean on the expertise and guidance of the IAED is an important component to our continued success."
Heinz acknowledged that working toward and maintaining accreditation isn't easy, but it's definitely worth every ounce of effort from everyone.
"Preparing for accreditation is no small task, but our supervisors, managers, and staff consistently rise to the occasion because they feel a tremendous sense of ownership and are proud of how they contribute to the health and well-being of our community," he said.
A team approach
Each year, the REMSA communications team responds to more than 70,000 calls for assistance among the 600,000 residents it serves in Washoe County. The area covers 6,542 square miles. The center is privately owned and is a community-based, nonprofit service. It is funded by user fees and doesn't rely on local taxes. Any financial profit it makes is reinvested in the staff, equipment, and community.
Not only do REMSA emergency dispatchers work with the paramedics and ambulance services for medical calls, they also coordinate with REMSA's Care Flight program. This air rescue team responds to emergencies over a 50,000-square-mile range in Nevada and northwestern California as well as in 11 other Western states. The Care Flight team has four helicopters and an airplane that can reach most of its coverage area in an hour or less.
Heinz said emergency dispatchers love working at REMSA because it gives them the chance to make a difference on what are the worst days of people's lives.
"Many of our providers and employees will tell you that they are honored to care for patients throughout their 911 experience," he said. "They understand that when someone calls 911, it is likely that they are scared and they don't know what to expect. Our dispatchers and paramedics work to calm callers and patients while providing them with lifesaving instructions and care."
REMSA's philosophy is "ONE TEAM," meaning that the responsibility of answering calls for assistance or providing care out in the field doesn't fall on one individual. Heinz said this teamwork approach entails everyone working for and with emergency dispatchers, nurses, paramedics, and pilots.
"In the telecommunications center, we consider ourselves the region's first, first responders," Heinz said. "Not only do we provide patient care over the phone, but we are caring for our paramedics as they arrive at the patient's side and as they transport the patient."
It also doesn't hurt that REMSA has what Heinz considers highly capable, exemplary professionals. All emergency dispatchers at the center have medical experience and are trained, at a minimum, as EMTs. Many of them have worked in the field, so they bring a unique perspective to the job.
"The clinical competence and compassion demonstrated by our dispatchers is remarkable," Heinz said. "They interact with their field counterparts, other PSAP colleagues in the region, and visitors, including community influencers and elected officials. They are true professionals. I also think it's important to foster a culture of camaraderie and support among the dispatchers. Our team celebrates their colleagues' successes and uplifts them when there are setbacks."
Community outreach
REMSA is proud of its longtime ACE designation. The team employs exemplary emergency dispatchers and provides ongoing support and training. The center also believes in giving back to the community beyond the emergency services it so expertly offers each day.
REMSA is actively engaged in public outreach and education. Management and staff do this in an effort to keep people safe and to help residents understand the important role they play in the chain of care.
"REMSA's vision is to be a leader in health care by supporting quality care, improved overall health, and affordable access in our communities," Heinz said. "These programs are cornerstones for educating all community members about ways to be healthy and safe in foundational ways."
Some of the following initiatives and activities include:
Car seat safety. In partnership with volunteers from the community and the Safe Kids Washoe County Coalition, REMSA employees offer residents a free inspection of their car seats to make sure caregivers have properly installed these important devices.
Hands-only CPR. REMSA staff educates people on how to use this effective technique to help cardiac arrest patients.
Infant safe sleep. REMSA works alongside the organization Cribs for Kids to provide caregivers with information on the right way to set up cribs for babies and how to ensure they sleep safely. REMSA also educates parents and caregivers on other ways to protect babies from harm such as breastfeeding techniques, keeping babies away from cigarette smoke, and regulating babies' temperature.
Pedestrian safety. REMSA supports programs that promote pedestrian and traffic safety awareness in Washoe County. The education program received a $15,000 government grant in an effort to help cut down on the number of pedestrian deaths.
In addition, the REMSA communications team strives to educate residents on the proper use of 911 and when they should call for help. The agency is active in promoting and participating in events such as EMS Week, Stroke Awareness Month, American Heart Month, and other celebratory and recognition occasions.
More Articles
Q advice delivered by the experts
Aims to reduce loss of life, protect callers