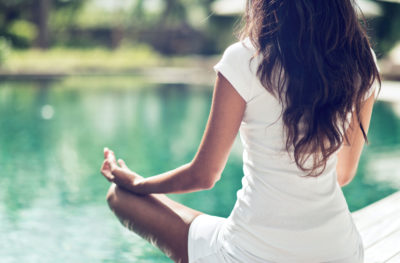 RELIEVE THE STRESS
July 14, 2016
Features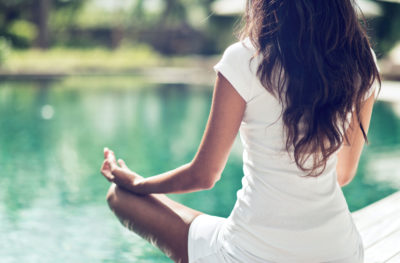 By Ryan Dedmon
Jamie Zeller spent 18 years as a dispatcher with the Escondido Police Department, Calif., answering every type of 911 call imaginable, and, at the same time, she served as a tactical dispatcher on incidents that required SWAT team response.
She admits to the stressful nature of the dual role, and similar to most people in highly demanding careers, she ignored the signs of accumulated stress until the effects were almost overwhelming.
Rather than giving up public service, Zeller turned to yoga.
"Yoga carries over to the dispatch floor because you can easily do deep-breathing exercises while plugged in sitting at the console," said Zeller, who started yoga seven years ago. "It really helps relieve tension."
Yoga is perfect for emergency dispatchers, said Dina Jump, a yoga instructor in Las Vegas, Nev.
"Yoga is about teaching people how to live minute-to-minute with life's ever-changing challenges," she said. "People always say, 'I can't do yoga because I'm not flexible,' but that's exactly why you do yoga, so you get flexible—not in a crazy bendy way to become some kind of contortionist, but to learn to bend so you won't break."
What is yoga?
Formal definitions describe yoga as a multi-disciplinary approach to balancing the mind, body, and spirit and incorporating different techniques of stretching, posing, breathing, mantra (chanting), and meditation in order to create more sustained joy. Yoga may help reduce stress, lower blood pressure, and lower heart rate.
That's not all of what yoga is about, according to Ashley Arroliga, a certified yoga instructor and the founder of Apothecary Yoga, Irvine, Calif. Yoga, she believes, also brings a deep self-awareness to the present state in place of thinking about the past or the future.
"Many people live in the past or in the future," Arroliga said. "This causes feelings of guilt or shame for what has happened in the past or anxiety worrying about things to come in the future. Neither of those feelings exists in the present."
It's not only yoga instructors advancing the practice. According to several studies, there is growing evidence that yoga can reduce the symptoms of post-traumatic stress disorder (PTSD) and enhance overall well-being.
For example, a study on the effects of sensory-enhanced yoga on symptoms of combat stress found Hatha yoga effective in reducing state and trait anxiety and with a potential to effectively address symptoms before they develop into full-blown PTSD.1
State anxiety describes the unpleasant feelings when an individual is confronted with specific situations, demands, or a particular object or event. Trait anxiety refers to the differences between people in terms of their tendency to experience state anxiety in response to the anticipation of a threat.2
A second study found a short-term yoga program reduced trauma symptoms in women with PTSD. In this study, 16 women between the ages of 25 and 55 were randomly assigned to either eight sessions of a gentle 75-minute Hatha yoga class or to a Dialectical Behavior Therapy (DBT) group. After eight weeks, the yoga participants, compared to the DBT participants, reported a greater reduction in frequency of all PTSD symptoms as well as greater gains in vitality and body attunement.3
Hatha yoga, mentioned in both studies, is frequently used to describe a slower-paced stretching class to learn beginners' poses and relaxation techniques.
Happier and healthier
As practitioners attest and studies indicate, yoga and other mindful meditation provide another way to build resiliency to psychological and emotional stresses of the job. If dispatchers are more self-aware of their thoughts and feelings, they can also do a better job of managing their stress levels, making them healthier and happier dispatchers.
Sources
1 Stoller C, Greuel J, Cimini L, Fowler M, Koomer J. "Stress in Deployed Military Personnel." American Journal of Occupational Therapy. 2012; January. http://ajot.aota.org/article.aspx?articleid=1851541 (accessed May 16, 2016).
2 Hatfield R. "Difference Between State and Trait Anxiety." Livestrong.com. 2015; April 19. http://www.livestrong.com/article/98672-differences-between-state-anxiety-/ (accessed May 20, 2016).
3 Emerson D, Sharma R, Chaudhry S, Turner J. "Trauma-Sensitive Yoga: Principles, Practice, and Research." Trauma Center at Justice Resource Institute. 2009. http://www.traumacenter.org/research/yoga_study.php (accessed May 16, 2016).
Ryan Dedmon, M.A., is the Communications Specialist for the 911 Wellness Foundation, a nonprofit working to optimize the overall health and well-being of emergency dispatchers. Ryan is a former Police Communications Operator and currently serves as an Adjunct Instructor at the Golden West College Criminal Justice Training Center in Southern California.
More Articles
Q advice delivered by the experts
Aims to reduce loss of life, protect callers