The Tie That Binds
October 12, 2018
Best Practices
Talley Johnson
The night of Feb. 7, 2018, the Richardson Police Department (PD), Richardson, Texas (USA), received a call that changed its history.
All of us have likely taken a call that began the way this one did.
A voice in an apartment complex cried out for help. The screens lit and the room filled with sound. Calls from residents all over the apartment complex poured in reporting gunshots and identifying a victim. Conflicting information on the exact apartment number created a challenge for emergency dispatchers, who worked intensely to pinpoint an exact location to get the victim help while keeping callers safe. With their help, officers made entry to the correct apartment.
Richardson PD was established in 1955 in the small city bordering the city of Dallas; it boasts a growing population of 113,347.1 The Richardson PD communication center handles calls that range from small-city worries, like parking complaints, to major incidents that come along with our proximity to a metroplex.
Our police department has grown over the years, to roughly 180 officers and 21 emergency dispatchers. A typical communications shift has five emergency dispatchers and a supervisor to handle the call volume and dispatch needs of the city. We are a close-knit family, being so few.
At the moment, we are housed in our backup center while a new public safety complex is constructed. It is a small room, where we have to watch how loudly we speak to avoid going over someone else's radio or call. Richardson PD has worked numerous high-priority calls and officer-involved shootings, but in our 63-year history, we had never lost an officer.
"Shots fired. Officer down!" Those were the words coming over the radio on Feb. 7. We have all trained for the worst-case scenario, but it would be an understatement to say that training scenarios can't prepare you emotionally for losing an officer. My stomach went cold. It didn't feel real. When Richardson PD officers made entry, the suspect shot and killed Officer David Sherrard and trapped six more officers in the apartment with gunfire. There was no time for shock or hesitation. We couldn't stop to cry. The rest of our officers, still trapped in the apartment, depended on us to be calm. We needed to work as a team and bring our officers home safely.
The 911 calls continued to pour in reporting additional gunshots as officers returned fire. Another co-worker and I answered the phones that night, documenting witness information with the knowledge that each call would be crucial in court. Between the 911 calls, I notified SWAT to respond and sent out the proper pages for additional manpower.
Dispatch Supervisor Sherry Buford was working the fire channel that night due to staff shortage. Buford had already dispatched paramedics to tend to the initial victim when Officer Sherrard was shot. She flew into action, dispatching additional apparatus and calling for mutual aid from three different cities. The supervisor phone line rang repeatedly as police chiefs and off-duty officers received notification of the incident. Buford answered them and commanded two fire channels seamlessly.
"As a supervisor, I constantly stress and model working together calmly as a team," Buford explained. "Teamwork means asking for help and accepting help from others when offered. I am so proud of how everyone pulled together and helped each other during this incident. We received compliments from both the police and fire personnel regarding how calm and professional everyone sounded throughout the event."
Teamwork during this time was crucial. Questions and updates cut through the din of phone calls.
"Find out which engine is filling in for Station 3," Buford called out.
"The DPS Helicopter is on the line and wants to know if we need them."
"What is SWAT's safe route?"
Emergency Dispatcher Matthew Taylor worked the police channel. He relayed any information needed and diverted all other traffic to secondary channels. As SWAT and off-duty units arrived, Taylor kept track of them and documented the incident as the trapped officers were extricated behind a shield. Taylor remained at the helm after his shift ended, unwilling to leave his units until SWAT had negotiated successfully with the suspect and had taken the suspect into custody.
"It was comforting," Taylor recalled, "knowing that I could count on the others in the room to get done what was needed so I could focus on the incident."
I cannot speak highly enough of the men and women working that night or the compassion they demonstrated.
Kathie Burke, second watch Emergency Dispatch Supervisor, had rushed to work upon receiving the page. She rested a hand on my shoulder and told me to take a quick walk around the center. I took the opportunity to calm my mind. All of us were running on adrenaline, but as adrenaline waned, the body and cognitive abilities slowed down. Away from the familiarity and comfort of the computer screens, I cried for the first time that night, but I was uplifted by the sound of repeatedly opened center doors. Off-duty co-workers had come to help. They plugged into the open computers and provided much needed relief by answering phones during the heightened call volume and dispatching non-emergency calls while providing emotional support and hugs. The small human gesture of physical touch was comfort that cannot be overstated.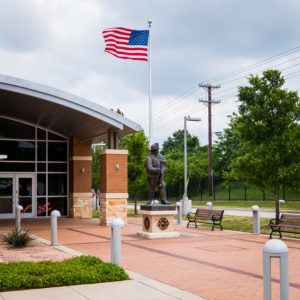 As I returned from my walk, trying to collect my thoughts, I found I was needed in a different role. The flood of pages we sent to notify the department of the shooting had crashed the paging system. Additional pages were needed, but now we would contact backup the old-fashioned way. I went into an adjoining room with a small team of emergency dispatchers and began calling from handsets and texting on personal phones. Using these methods, we were able to phone in volunteers to relieve the fire department and keep the officers up to speed.
The entire incident lasted nearly four hours. At the end of it, we had faced the worst incident in Richardson PD's history. We gave everything we had and showed exceptional teamwork, coordination, and compassion to one another. I like to think that we are now a stronger team and have forged a bond, having gone through the worst and come out stronger on the other side.
I would be negligent if I failed to mention that losing an officer can cause emotional wounds for any emergency dispatcher. After a traumatic call, it is common to feel guilt, fear, and anger. An emergency dispatcher may experience flashbacks or have trouble coming to terms with what happened.2 If you have experienced this, it is so important to seek help. Ask your supervisors to provide Critical Incident Stress Management (CISM). Ask if your department offers free counseling. Therapy dogs are also a very useful resource after an incident like this. Do not be too proud to ask for help; you need to be emotionally healthy for your own sake and for your officers. Take care of yourself and your team to stand against the dark days.
Sources
1 "QuickFacts: Richardson city, Texas." United States Census Bureau. https://www.census.gov/quickfacts/fact/table/richardsoncitytexas/PST045216 (accessed May 5, 2018).
2 Raskin A. "PTSD AND EMERGENCY TELECOMMUNICATORS." The Journal of Emergency Dispatch. 2016; July 7. https://iaedjournal.org/ptsd-in-911-communications-qa/ (accessed April 26, 2018).
Writer's Biography:
Talley Johnson has been a Public Safety Telecommunicator with the Richardson Police Department for almost three years, dispatching police, fire, and EMS. She will soon begin training to become a communications training officer. She has a bachelor's degree in Spanish from the University of Houston.
More Articles
Now, more than ever, is the right time to learn how to control stress
Understanding Additional Info Definitions helps clarify when to use Protocol 135