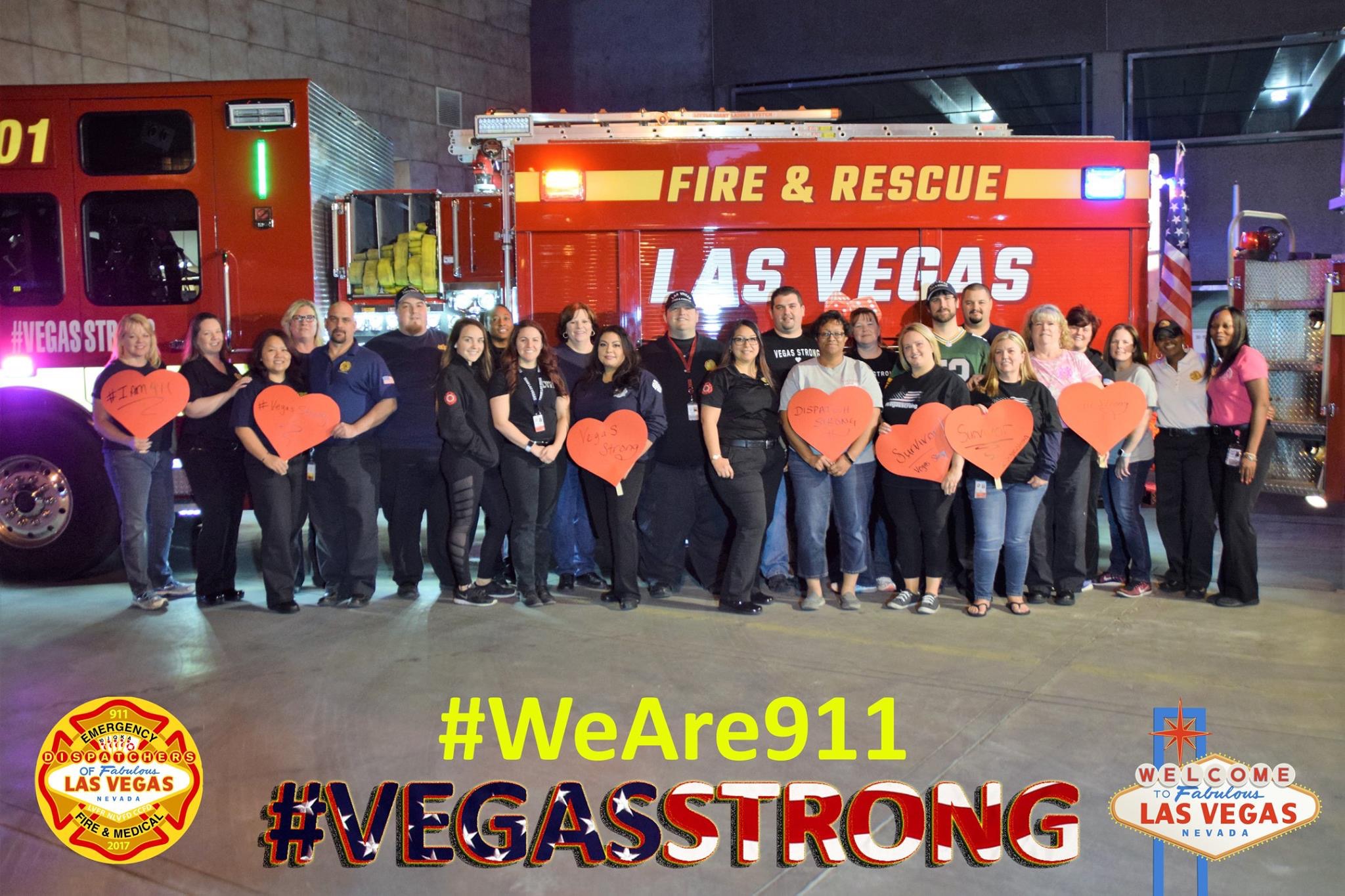 The Calm for Their Storm
October 12, 2017
Web Exclusives
Audrey Fraizer and Josh McFadden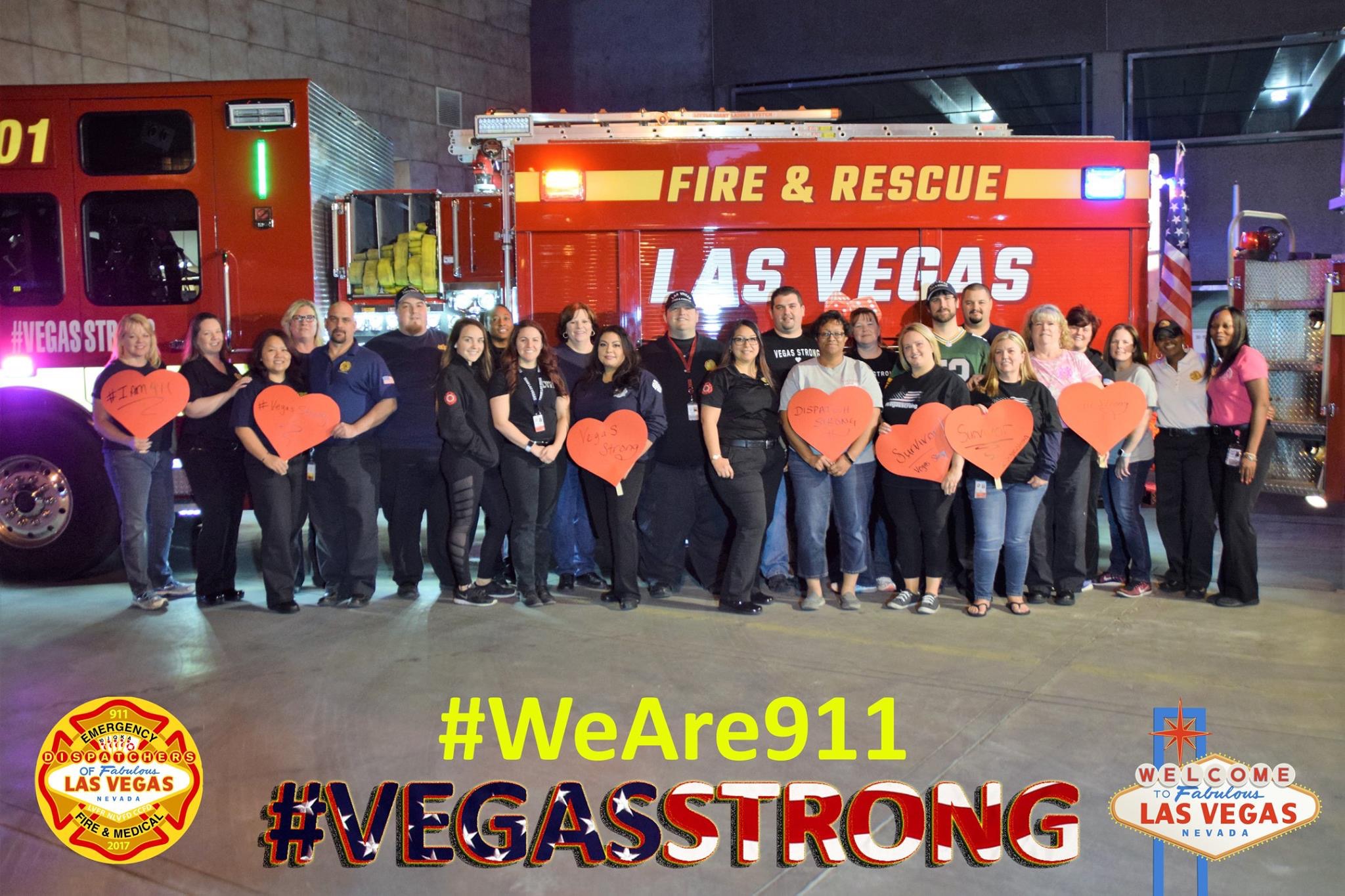 The caller was hiding in a storage bin. It was where she ran, her arm bleeding profusely from a bullet wound, after gunshots started hailing upon music fans gathered in Las Vegas for the Route 91 Harvest Music Festival.
"She was alone," said Mone Foster, EMD, Las Vegas Fire & Rescue Combined Communications Center. "And all I could do was ask where she was, where was the container so medics could find her. I told her to put direct pressure on the wound to stop the bleeding."
Then she was on to the next call.
Foster had just arrived at the communication center for her 10-hour shift when the first call came in at 10:08 p.m. Someone in the room announced "active shooter" and in the next nanosecond, the center was "slammed" with calls. No two calls she answered were the same, although they all told the same story. People were hurt, bleeding, and frightened.
"They were barricaded to protect themselves, hiding and afraid to move," Foster said. "People were literally whispering on the phone. No one knew where the shooter was or if there was more than one."
For the next two hours, Foster answered calls, one immediately following another, nonstop, and without break, although the firing had stopped nearly 12 minutes after it had started. Hotels were in lockdown. Bystanders were driving the wounded to hospitals. People were frantically searching for friends and family separated during the milieu.
Charlotte Gentry, EMD-Q, Las Vegas Fire & Rescue, is a country music fan, and she was at the concert when she heard something sounding like the pop and snap of fireworks to her right. She looked over her shoulder.
"There wasn't anything," she said.
And that's when the people in front, near the stage, started running toward her, a huge wave building and breaking up, crashing. Shots kept coming. People were down. People were bent to the ground offering assistance, holding a hand, crying, and—in the confusion—unable to run, unable to comprehend the enormity of the situation. People were covered in blood, either because they were wounded or comforting the wounded. Someone had stopped long enough to put a jacket over a body stilled by a gunshot.
People scattered from front center stage to the vending area stage right, near the back entrance of House of Blues. Gentry followed, thinking of a strategy to help them escape safely. The vending area was a tent of plastic screening, which would never do. She pushed open a screen at the back, revealing tables that they could turn over for cover.
"I told them to keep quiet," she said. "A shooter could be on the ground."
When the shooting stopped, Gentry pointed them to an exit leading in the opposite direction of the venue. She went back to help, after swapping the flip-flops she was wearing for a pair of boots and headed back in.
"I stopped to help a police officer pick up a girl shot in the femur," Gentry said. "There were so many of us, off-duty police, Las Vegas Fire & Rescue, paramedics, EMTs. We didn't know one another. We treated people. We loaded the wounded into trucks. People wanted to help. They wanted to stay and do what they could to help."
The shooting had stopped but no one on the ground knew when it would start again.
On the night of the shooting, dispatcher Daryn Larson was getting some rest before his 10-hour shift at the communication center at midnight. A text message awoke him before he intended to get out of bed.
The message confused him. "Are you all right?" it asked.
"Why wouldn't I be?" Larson wondered.
Larson, who has been with Las Vegas Fire & Rescue for one year and was with a communication center in Georgia for three years, got ready for work and headed into the dispatch center. On his way in, Larson received more text messages, telling him about the shooting. Initial reports, however, didn't give the full scale of the tragedy. Larson first heard that two people were dead and 20 had been injured.
"I figured a fight had broken out," he said.
Larson got to work half an hour early, and when he stepped into the comm. center, he knew this night would be unlike any other in his life. He saw two chiefs on the floor and a long list of medical calls.
"I got into work and saw the pending incident screen all in red," he said. "We were treating each call individually. Most calls were from those hiding in surrounding hotels and businesses. When I saw two chiefs, I knew it was bad."
Despite the busier-than-ever scene and the terrifying event that had taken place just down the road, Larson said the mood in the comm. center was surprisingly calm.
"Everyone was probably in shock, waiting to know how long it would be until help would arrive," he said.
Larson stayed busy for a few hours, taking medical calls from the wounded and from witnesses helping those who had been injured.
"Most calls were for extremities, not too severe," he said. "I don't remember things calming down for two to three hours. There were calls about panic attacks and people getting trampled."
Larson commends his colleagues for staying calm and professional throughout the ordeal. He was amazed at the camaraderie and cooperation.
"It was organized chaos," he said. "Everybody displayed some of the best teamwork I've ever seen. I could see the shock on their faces. I could tell they were exhausted, but they were still getting the job done. It speaks volumes of how we pulled together."
EMD Matt Grogan went in two hours earlier than when his shift was supposed to begin once he learned of the incident from a message posted on a social media site by two other Las Vegas Fire & Rescue dispatchers who attended the concert. Grogan listened to his police scanner and knew instantly, from the tone of voices, that this incident was larger than what might be expected in the large metropolitan area.
"I drove like a bat out of hell to get there," he said. "I sat down and started taking calls for the next four hours straight. We were taking calls from people hiding in closets, kitchens of hotels, and the safety of their hotel rooms. I got a call from a woman with a broken leg who had taken shelter in a dumpster."
Callers also reporting shootings at multiple locations on the strip heightened the chaos. Eventually, they put two and two together, Grogan said.
"People were leaving the scene wounded and bleeding," he said. "Taxis were taking them to their hotels, dropping them off, and the valets were called. We didn't know, no one knew, what had happened to the gunman."
They also realized "rather quickly," Grogan said, that injuries would outweigh available resources. They triaged, gave instructions to stop the bleeding, and told callers with less acute injuries—such as the girl with the broken leg—to shelter in place and wait for help.
Their understanding is a tribute to them as survivors, said Grogan, who worked 10 years at fire dispatch at a center in the Chicago area prior to Las Vegas.
"We were the calm in their storm," he said. "They knew we were not going to forget about them. We called people back to make sure they were OK."
Gentry joined the line of police searching the grounds for the wounded. She answered text messages from co-workers who remembered she was there for the music festival. The training officer left the center to pick up the other two dispatchers, a 15-minute drive from the venue. Multiple victims were on the ground, several dead, others desperately wounded. They used string, pieces of tarp, anything they could find for basic first aid until a medic arrived. They made snap decisions. Do we leave a person who looks beyond needing our help or do we carry the person out?
EMD David Westbrooks was scheduled to come in at 2 a.m. but a text message ahead of his shift told him something major was happening. He arrived at midnight to help.
"It was havoc," he said. "Call after call after call. I wanted to take a calltaker position but with all the regular stuff still going on all over the valley, that wasn't going to happen."
Westbrooks, now in his 25th year in communications, was assigned to unit coordination.
"I helped arrange station coverage [filling in the response gaps created by so many stations and resources arriving on scene]," he said. "We kept in contact with chiefs [fire and police], letting them know what we were doing and what stations were involved. It was a team effort. Everybody working together."
Later, in the early morning, Westbrooks rotated to traffic accidents, chest pains, and the calls that normally come into the center. He gave contact information for callers looking for loved ones.
"We have to continue to do what we do," he said. "Helping people is what we do."
Gentry stopped to calm a girl, hysterical for having lost sight of her two friends. Gentry called the girl's mom, who lives in Salt Lake City, to say "your daughter is not hurt," in case she was listening to the news. The friends were later found at the hospital, receiving treatment for gunshot wounds.
Gentry stayed, unable to pick up her car from where it was parked at Mandalay Bay. She was "fine" until talking to her own mom.
"I teared up," Gentry said. "Once it all kind of stopped, adrenaline let go. I couldn't stop crying." Gentry returned to work Tuesday. Her overriding concern about the other people she considers family and who, like her, were going full steam ahead without hesitation.
Keeping busy is her reprieve from the anxiety as an aftermath of trauma.
Foster was born and raised on the outskirts of Las Vegas, a a city known for its revelry and non-stop action. Never did she expect something of this magnitude. She is angry. How could one person kill so many innocent people? She has lost sleep.
"It was rough on all of us," she said.
And, she said, it has also brought them closer.
Debriefings held during the week after provided a chance to help one another, she said. The outpouring of compassion through multiple tributes helps restore her faith in people. Restaurants bring breakfast, lunch, and dinners. Therapy dogs and their trainers come by daily. During the first home game since the shooting, the UNLV football team had red ribbons on their helmets commemorating the victims and 59 balloons were released at half-time.
To honor the victims and heroes of the attack, hotel marquees lights along the Las Vegas strip and throughout Las Vegas Valley dimmed from 10:05 p.m. to 10:16 p.m. on Sunday, Oct. 8.
Grogan called the outpouring of support "amazing," and was particularly affected by letters they received from a class of fifth graders.
"At first I felt like screaming because these kids are expressing emotions of the level of adults," he said. "I wanted to say, 'You're a kid and you shouldn't have to feel this way.' Yet it was genuine, sincere. It really touched me."
Sacramento Regional Fire/EMS Communications (SRFECC) (California) sent four dispatchers to help out at the Las Vegas center during the week following the shooting and they worked 10 hour shifts daily from Wednesday, Oct. 4, through Monday, Oct. 9, providing respite and alleviating workload.
Similar to Las Vegas Fire & Rescue, SRFECC uses the Medical Priority Dispatch System™ (MPDS®), making the transition between centers smooth for the dispatchers.
"They elevated our spirits," Grogan said. "They were saying 'We're here for you. We're part of this big family.' It was tremendous for them to come and do that for us."
Westbrooks is ready to take action.
"I want it to move on and be over so that we can do something," he said. "I want to be part of what we can do if this ever happens again. I want solutions that don't stop people from coming here because they're afraid."
Larson said he initially felt "OK." He went home after 12 hours and found it hard to turn off the TV news. He wanted to understand why; what would motivate someone to shoot into a crowd gathered to enjoy an evening of country music. The week at work immediately after the shooting was "really, really long," he said.
"You want to say that you're fine but no one's fine after something like this," he said. "Not just the calls, but the city. This is where we call home."
The physical and emotional wounds and scars will remain with those close to the event. But out of the sadness, grief, and pain has come an outpouring of support and love. People risked lives to save strangers. First responders and dispatchers worked tirelessly around the clock. People worldwide have donated time, money, and goods in relief. Overwhelming expressions of peace and sympathy have been given.
"It shows what kind of community we are," Larson said about the positive acts. "It's amazing to see there's humanity left."
More Articles
Q advice delivered by the experts
Aims to reduce loss of life, protect callers