Shelter From the Fires
October 27, 2017
Web Exclusives
Audrey Fraizer
A line outside of REDCOM communications center in Santa Rosa, California, USA, held its position.
You can't see the line, but it exists, and Aaron Abbott and an official from the Sonoma County Fire Services stepped outside into the smoky haze hourly during the worst of the Northern California wildfires to check the line, determining their next move.
"We would go out and inspect where the fire was and how fast it was moving," said Abbott, Executive Director, REDCOM (Redwood Empire Dispatch Communications Authority). "If it crossed our line of demarcation, we would have to leave."
REDCOM provides centralized emergency dispatching to an array of public and private, volunteer and paid Fire and EMS agencies within Sonoma County. REDCOM employs 18 full-time and three part-time emergency dispatchers rotating through three shifts. On average, they answer 300 calls during each 24-hour period.
The Northern California wildfires blew their shifts and averages into oblivion. For 72 straight hours, beginning Oct. 8, and sheltered within their building, they managed 20 times their normal call volume, while flames two blocks away engulfed and destroyed homes, businesses, and acres of prime agriculture and scenic beauty.
There's a playbook to handle catastrophic events, Abbott said.
But this time, the rules, practice, and even the protocols didn't apply. During the initial attack phase, REDCOM engaged the Emergency Rule (suspending EMD procedures beyond Case Entry and providing PAIs to callers needing immediate medical attention). Every ambulance and fire resource available was sent to protect lives, getting people out of their homes and neighborhoods before it was too late.
And for many, it was. People died; others have yet to be accounted for; and hospitals are still overwhelmed with patients needing treatment for fire-related injuries or health issues, including burns, smoke inhalation, and shortness of breath.
A time-lapse heat map of 911 calls taken by REDCOM shows the emergencies erupting across Sonoma County in increasing numbers starting about 7:30 p.m. on Sunday, Oct. 8, and continuing through Monday, Oct. 9. A series of wind-driven fires—with gusts reported up to 68 mph—eventually merged to become the massive Tubbs, Nuns, Adobe, and Pocket fires. Tens of thousands of people were evacuated.
Emergency Dispatchers worked 18- to 20-hour shifts, taking naps in a "sleeping room" made up of cots and blankets borrowed from the Sonoma County EOC. During the first 18 hours, they managed more than 700 fire-related incidents (structure and vegetation fires, power lines falling down, and electrical transformers exploding) and, at one point over a 90-minute period, sent fire crews to at least 100 different locations reporting hazardous conditions across Sonoma County.
"They [emergency dispatchers] were dedicated to helping people evacuate from certain areas," Abbott said. "They would map them out, telling people how to get out of the neighborhood, what streets were safe, and where they could go. People were trapped inside their homes or wandering around outside not knowing what to do. We told one couple to get into the neighbor's pool. Intense. It was very intense for the dispatchers. They used experience and quick thinking to guide their callers to safety."
Inside the center, the water pressure tanked, shutting down toilets and forcing staff to depend on supplies of bottled water. Port-a-potties were trucked in, and Abbott drove his personal vehicle through Santa Rosa to purchase the bottled water, frozen meals, and snacks to supplement their supply of granola bars.
Through it all, Abbott monitored the line.
"The Tubbs fire was approaching," he said. "Should we shelter or leave? I told staff that if we had to leave, we would. Never would I put our people in danger."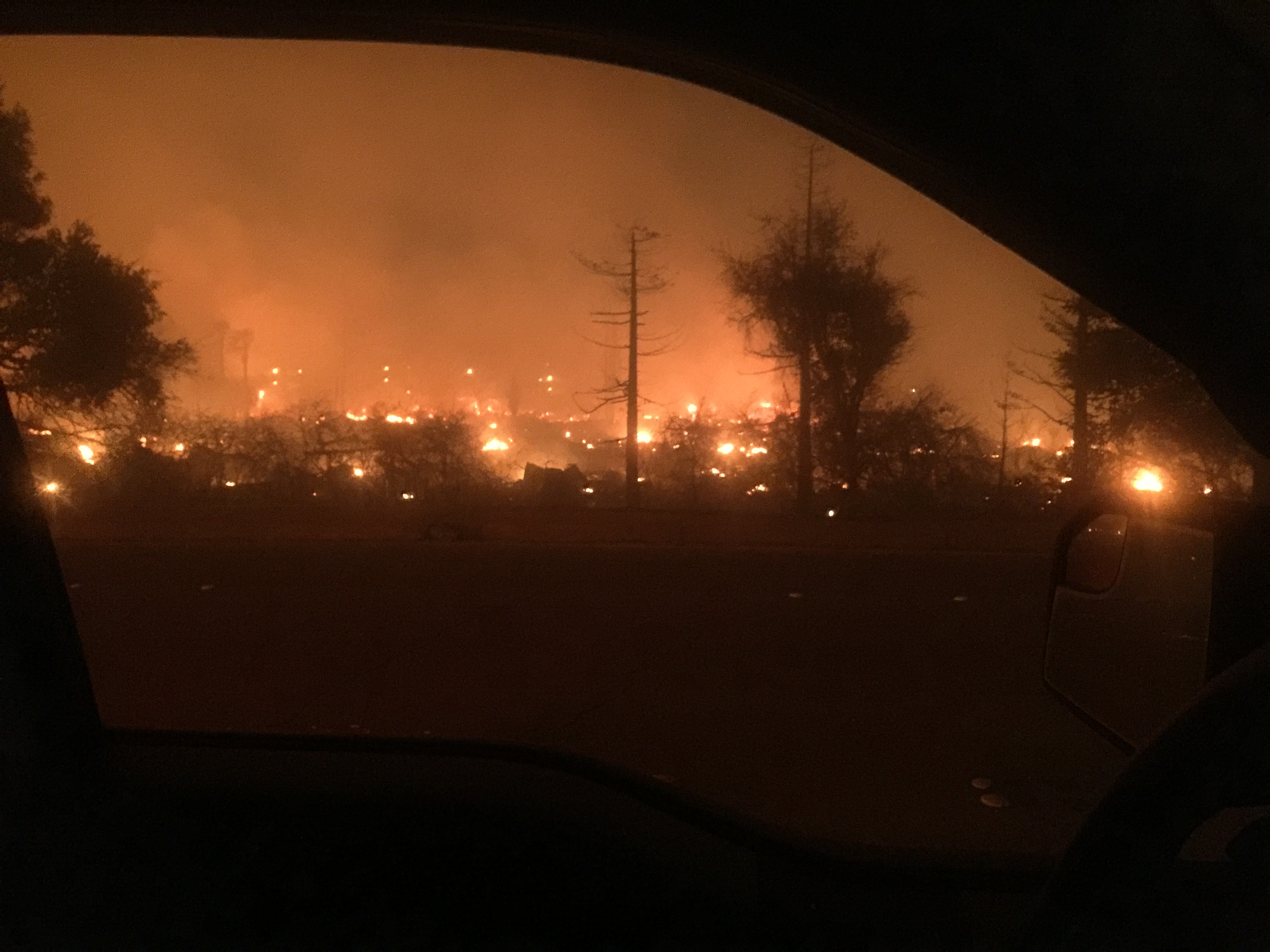 Leaving offered few options. Their backup center operated by CAL FIRE in Calistoga was inundated with calls and could not accommodate the extra load. Aside from that, fires blocked the roads they would travel. State officials could bring in a mobile unit, but that would take at least three days. He urged staff to go home, rest, sleep, and check on their families. They came back. One emergency dispatcher lost his home—and another was evacuated from his apartment complex. Abbott went home twice, convincing his wife to take their two children to family living in Reno, Nevada, USA. He praises his staff.
"They are professionals," he said. "I had no expectations of anyone returning once they went home. But they all came back. Their dedication was phenomenal."
The fire never crossed the line. REDCOM was there for the duration.
Call volume was close to normal by Sunday, Oct. 15. Abbott rescinded the Emergency Rule and put normal hours into effect. He has formulated plans to better prepare in the event of another major catastrophe such as an earthquake (the Rogers Creek Fault goes through the central part of Santa Rosa). He wants 72-hour kits in storage and a family care center so that staff can work "with a clear head" knowing their families are protected. He will seek funding for a mobile command center, fully equipped to manage events away from the main center. Longer-term goals include the creation of emergency dispatch strike teams and regional CAD interoperability.
REDCOM invited therapy dogs and their handlers to help his staff heal. The handlers were part of departmental debriefings, and they talk among themselves.
By Oct. 23, the fires affecting Sonoma County had destroyed an estimated 6,800 buildings and caused the deaths of at least 23 people (many still unaccounted for).1
The neighborhoods they knew, the routes they drove to work, and the businesses they visited are mostly changed from the fire. Santa Rosa lost 3,000 homes. A fire-destroyed Hilton Hotel provides a bleak backdrop to the charred rubble of Journey's End mobile home park. The air is still thick with smoke and people who have lost homes—and were allowed to return—sort through the wreckage searching for salvageable belongings.
Abbott said he is doing well. He goes to the gym and looks forward to hiking once the land is in recovery. He knows the shock will settle in Santa Rosa and a degree of normalcy will return to its residents.
"People will rebuild and get back to work," he said. "There's a resiliency. People know what to do and our community will move forward."
Source
1Johnson, J. "Time-lapse video map shows 911 calls on Tubbs fire." The Press Democrat. 2017; Oct. 23. http://www.pressdemocrat.com/news/7555919-181/time-lapse-video-map-shows-911 (accessed Oct. 25).
More Articles
Look at them as any other vital medical device
What do they have in common?