Hong Kong's Front Line
April 23, 2020
ACE Achievers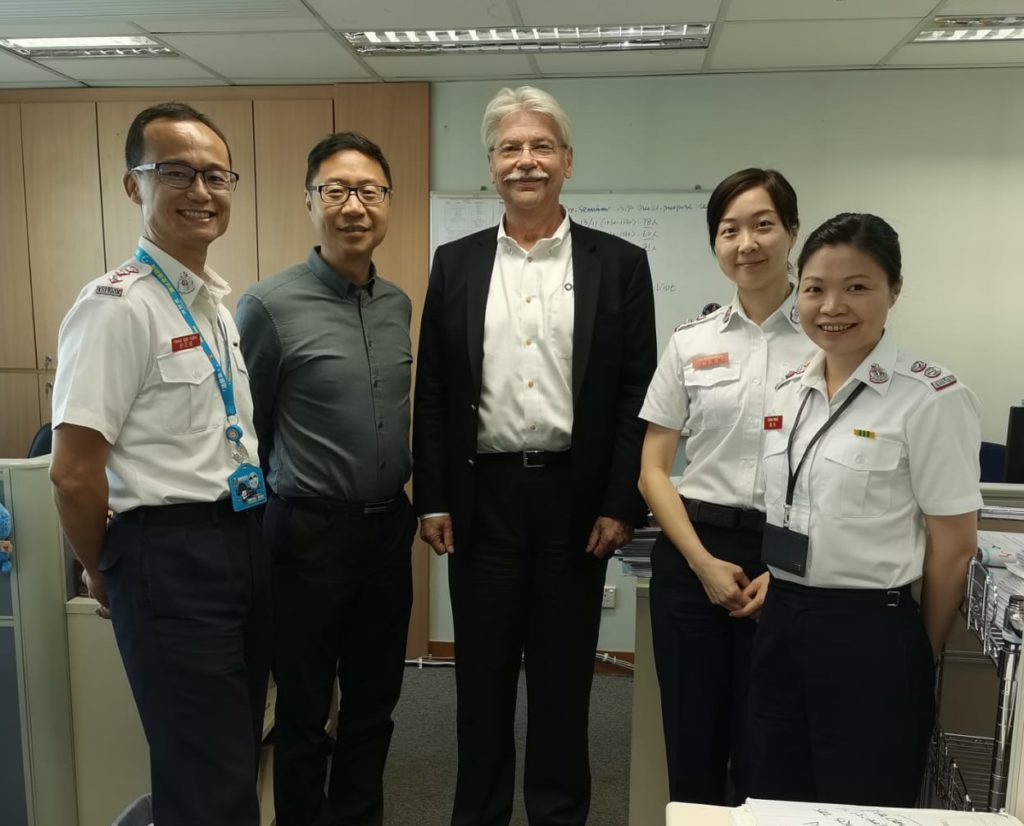 Editor's Note: The March/April issue of the Journal takes a look at the Hong Kong Fire Services Department (FSD) communication center. The Q&A that follows introduces you to the center responsible for coordinating firefighting and rescue on land and at sea and emergency ambulance services.
The center is an Accredited Center of Excellence (ACE).
Q&A with Pang Sze-yuen (Eric), Senior Ambulance Officer (Mobilizing and Communications Group), Quality Improvement Unit, Hong Kong Fire Services Department (FSD)
What are your most common calls?
The five most common types of conditions of patients requiring post-dispatch advice (PDA) are sick persons (general sickness such as diarrhea, dizziness, etc.), breathing problems, falls, unconscious/fainting (near), and chest pain/chest discomfort. These accounted for about 70% of all emergency ambulance services (EAS) calls with PDA given. Among the remaining EAS calls, PDAs were given to around 2% of callers where the patient had a potentially life-threatening situation, including cardiac or respiratory arrest/death, choking, and pregnancy/childbirth/miscarriage.
Any calls you'd like to share with us?
We interviewed two callers who received PDAs for childbirth and CPR and posted on the FSD Facebook fan page to further convince the public about the benefits of protocol. They are in Cantonese and may be viewed at:
You've mentioned peer pressure motivating the more experienced emergency dispatchers. What else worked to encourage others resisting change?
Teamwork. To decrease a relatively high caller hang up rate, we produced a video and posted on our FSD Facebook fan page to draw public attention to staying on the line. The video, from initial brainstorming to final shooting, was conducted by staff members and almost everyone in the video are FSCC EMDs. On one hand, it helped develop their team spirit; on the other hand, it helped arouse public interest to our PDA service. For easy reference (although in Cantonese), the link is https://www.facebook.com/2259548997450630/posts/3294397310632455?vh=e&d=n&sfns=mo.
Anyone you'd like to acknowledge at IAED™ or PDC™ for their help in all of this?
As a matter of fact, those who visited us played a critical role leading us in achieving the ACE. Brett Patterson, who taught me EMD, gave us a lot of insight. Ivan Whitaker and Tony Guido provided thorough guidance in writing the EMD policies. Ken Hotaling gave EMD lectures and helped in our QIU process. Ross Rutschman was particularly helpful and kept us on the right track all along from the very beginning, giving EMD/AQUA® lectures and writing EMD policies and QIU marking procedures/standards to ACE documentations. Chip Hlavacek also helped to solve technical problems moving from AQUA 6 to AQUA 7.
Tell us something about yourself.
During my more than 15 years in the paramedic service, I worked in the field providing prehospital care, and I was in charge of an ambulance depot. In 2017, I moved to emergency dispatch to lead the QIU team overseeing the new PDA service. My core duty is coordinating the dispatch center and ambulance sector to ensure the sustainability of the provision of PDA service.
The job duties, working environment, colleagues, and workflow/procedures are new. However, the three other members of the QIU team have helped me adapt quickly and smoothly.
Finally, a question on every emergency dispatcher's list is FSCC's active role in the recent Hong Kong protests.
Police Regional Command and Control Centres (RCCC) answer 999 calls via their 999 consoles. RCCC officers determine the nature of calls, according to guidelines. For emergency cases, RCCCs dispatch police officers to handle these cases.
The FSCC responds to fire-related incidents and medical emergencies. In case of a medical emergency, protestors seek treatment at underground clinics rather than risk arrest if transported to hospitals. As far as fire services, between June 9 and Oct. 1, firefighters responded to 37 incidents involving firebombs thrown by protesters; objects such as rubbish bins are also frequently set on fire. The fire department responded to a total of 319 fires during the same period.
More Articles
Now, more than ever, is the right time to learn how to control stress
Understanding Additional Info Definitions helps clarify when to use Protocol 135