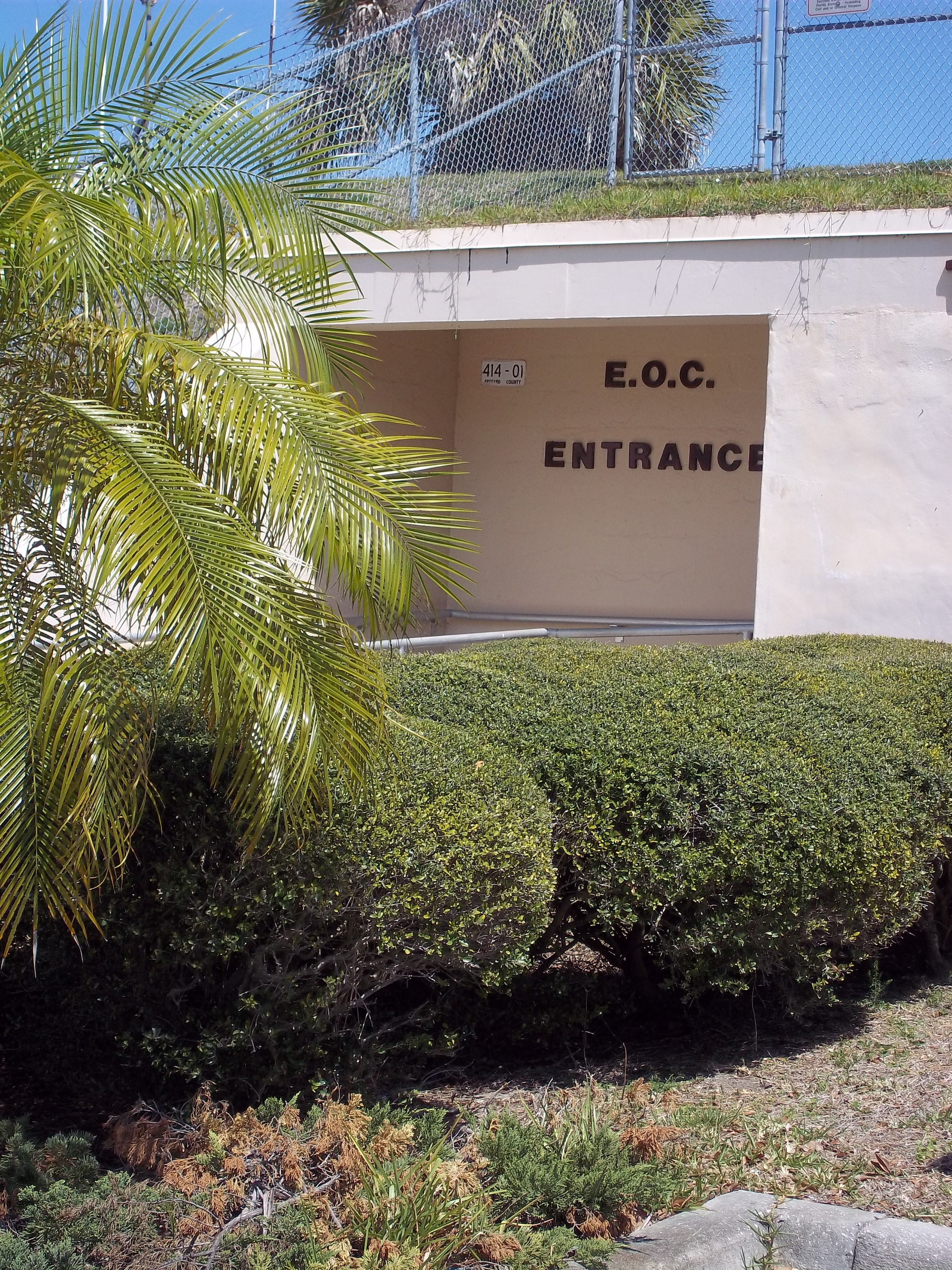 Best Practices
Audrey Fraizer
The ceiling of Brevard County Fire Dispatch in southern coastal Florida is a panorama of tropical fish, a sea turtle, a shark, trees, and, most impressively, abundant sunshine.
Strips of sunlight filter the ocean water, and skies are bright blue, with powder puffs of white clouds. Each panel overhead presents a day perfect for sailing, swimming, hiking, or any of the hundreds of outdoor adventures accessible to residents and tourists.
But it's not always like that, the weather. Hurricanes are no stranger to Brevard County and before, during, and after the heavy rains and storm surge comprise the busiest times in the dispatch center. Residents watch, wait, and are sometimes ordered to evacuate.
"We watched [Hurricane] Matthew coming in over the Sebastian Inlet," said Raymond Macht, who moved to Florida in 1977 from the Panama Canal Zone.
Macht owns the 2002 Restaurant in Barefoot Bay, a large and spacious manufactured home community in a section of Brevard County along the Intracoastal Waterway. While his business stands on solid ground, he followed the queue of others on Thursday, Oct. 6, 2016, shuttering his windows and getting the heck out.
"You say you're never going through this again, but you do," he said.
Brevard County Emergency Management organizes evacuations, directing Barefoot Bay residents to pack overnight bags prior to boarding buses for designated community shelters. They watched, waited, and sheltered in high-wind resistant shelters. This time, they were lucky. Unlike Hurricanes Frances in 2004, which destroyed hundreds of homes fronting the Sebastian Inlet, Matthew skipped off shore. Others along the coast were not so fortunate. Wind speeds up to 120 miles per hour in adjacent sections of Brevard County destroyed homes and businesses, damaged thousands of structures, and uprooted acres of trees and foliage.
The EMDs at Brevard County Fire Dispatch did not see any of this, at least not directly. While in lockdown for a 24-hour period during the storm, their viewing was limited to wall-mounted TV monitors. They did not hear the wind, despite surrounding damages to the city of Rockledge, where the center is located.
"We have a very secure building," said Ryan Lugo, Brevard County Fire Dispatch Shift Supervisor and CAD System Administrator.
That's probably an understatement. Brevard County Fire Dispatch is housed in a Cold War bunker, circa 1957. Walls are cinder block. Floors are cement. It is a closed environment, partially underground. There is one door and no windows. Ceiling panels are their simulated sky and ocean.
"We don't know if it's hot or cold," Lugo said. "We don't know what's happening out there."
Maybe that's a good thing. The National Weather Service in Melbourne reported Hurricane Frances winds in 2004 gusted at 63 miles per hour with almost 8 inches of rain. Merritt Island Airport recorded sustained winds of 64 mph with a 78-mph maximum gust. The wind was so strong that dispatchers couldn't have walked across the street to a local diner if they had wanted to. The fully activated staff (28 EMDs and two supervisors) was working 12-hour shifts, taking turns sleeping and relying on public service agencies, including the American Red Cross next door, to bring in food and beverages. Dispatchers handle everything from tree falls to medical emergencies and fires.
"It can be the worst of times and we prioritize," Lugo said.
Brevard County Fire Dispatch is a secondary PSAP. From its single location in Rockledge, it is the communication contact for 32 fire departments serving unincorporated sections of a county stretching 78 miles long and 30 miles wide along the Atlantic Coast. Four dispatchers of an optimal 28-member dispatch staff are always on duty working eight-hour shifts. All are EMD/EFD certified. Call volume in 2015–2016 exceeded 90,000 fire and EMS calls. Seven answering positions and six inbound 911 trunks provide the extra space necessary during a major crisis.
Hurricanes are not the only potential disaster. Wildfire could decimate land surrounding the Kennedy Space Center and Cape Canaveral Air Force Station, the county's moniker "Space Coast." Ships wreck from wind, water, and tides eroding and shifting land along the 45-mile barrier island coastline, and people drown in the powerful riptide conditions off Brevard County beaches (all lifeguards have a minimum of first responder training). It is the sole county in the Palm Bay–Melbourne–Titusville, Florida Metropolitan Statistical Area, and ranks among the Top 100 most populous metropolitan areas in the United States. On any given day of the year, the county hosts an average of 1.2 million tourists.
Emergency calls reflect a mix of geography, climate, and demographics, with the space center adding a unique dimension. For example, in the latter category, the SpaceX launch of a recycled Falcon 9 rocket on March 30 might have triggered concerns of earthquake activity in a seismically inactive region.
"The sonic boom will literally shake your house," Lugo said. "If you don't know and your window rumbles and your house rattles, your first thought is calling 911. It's an explosion or an earthquake, and we explain it's the rocket."
Coastline and abundant wildlife refuges carry with them the possibility of animal attacks or simply the fear of dangerous encounters from sharks, alligators, and wild boars. They don't send response for a sighting, such as a shark swimming close to shore or an alligator basking on a log at the edge of a lagoon. And being chased by a wild boar while hiking at St. Sebastian River Preserve State Park? Well, that's just another day in Florida. The hogs, which can weigh as much as 750 pounds, are a menace and environmental hazard rampaging rural areas, suburbs, and even a few cities, digging up palm groves, lawns, and beaches. They're also temperamental.
The demography of residents 65 years and older (20 percent of the population) and senior snowbirds (seasonal tourists) tend to increase calls involving falls, strokes, sudden cardiac arrest, and breathing problems. Spring break attracts college students from across the country for beach parties that, in turn, increase heat- and alcohol-related emergencies.
"It gets complicated," Lugo said.
Some EMDs/EFDs like Karen Holly stay because of the variety.
"Every day is different," said Holly, who is in her 15th year at the center. "You never know what's going to happen next."
For others, it's the intensity of calls, occasional lockdowns, or the stress of unexpected events that drives the decision to look elsewhere for meaningful work. And not everyone can adjust to working in a bunker, despite great drainage and wind-proofing. It's a tough job, which explains the large inflatable hammerhead shark that takes up temporary residency coinciding with Discovery Channel's "Shark Week."
"We have that conversation with everyone we interview," said Radio System and Dispatch Manager Lesley Lewis, who has worked in Brevard County public service since the early 1980s. "You can't stop everything. You learn to accept. We're also underground so we have to be creative."
The hammerhead actually stays tethered to the ceiling for a month. While they keep to the week designated for National Telecommunicator Week, it's a full schedule of daily events, such as Crazy Hair Day and Favorite Sport Team Day, plus the highly anticipated annual family picnic rotated among the county's 10 PSAPs. They celebrate birthdays, holidays, and notable calls (such as cardiac saves and baby deliveries).
The bunker, however, will soon see its last days in dispatch. A five-year plan calls for a move to a dedicated center closer to county offices in Melbourne.
The shark will go with them, although windows might demote panoramic ceiling photos to permanent storage.
"We'll adjust," Lewis said. "We always do."
More Articles
Q advice delivered by the experts
Aims to reduce loss of life, protect callers