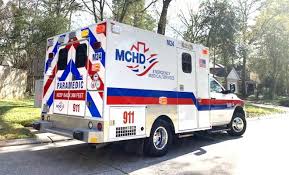 Beyond The Bill
August 21, 2020
Journal+
The state of Texas was early to officially recognize a good thing.
And that was taking the lead in categorizing emergency dispatchers in the same way as EMS personnel, firefighters, and police. Bill 1090 went into effect Sept. 1, 2019, and, in addition to the official ranking, the legislation gives dispatchers access to specialized training and other benefits that apply to all first responders.
Montgomery County Hospital District is dual ACE of Texas
Signing the bill into law, "demonstrates that Texas recognizes that 9-1-1 emergency dispatchers provide critical and life-saving services for the public. As such, they may encounter stressful and potentially traumatic events and experiences in the course of exercising their duties," according to the bill's sponsor Texas House Representative Cecil Bell.1
You don't have to look far to realize the bill goes beyond the printed word at the Montgomery County Hospital District (MCHD) communication center—or ALARM, as it is called—and has been that way for a long time. The EMDs are credited for each incident in which their initial contact through field response resulted in highlighting the caliber of their "whole team."
"We are a whole team working to help people during an emergency as best as we can," said Assistant Manager and Quality Coordinator Kimberly Brown. "We're all in this together."
Note: check the MCHD Facebook posts below describing emergency service actions in concert.
It wasn't always like that, said Brown, who started at ALARM in 2006 with an additional four years in police dispatch already in her emergency services career. There was such negativity from a lack of understanding of what the other side was doing, she said, "we decided to trade places."
During the past eight years, newly hired dispatchers have accompanied a district supervisor on an ambulance shift. Field responders, new to MCHD, spend two hours with a calltaker, two hours with a dispatcher, and another two hours with a tactical team dispatcher. The program met with observable changes in empathy, convincing the hospital district to require similar cross-introductions throughout the organization. Professional rifts were not confined to response.
Other collaborative ventures reunite the response team with people saved through CPR and the babies delivered prior to hospital arrival.
"These are the things we miss," said Brown, referring to programs on hold due to COVID-19 precautions. "These are the things we look forward to again."
Like everywhere else, MCHD has not escaped the fury of COVID-19. As of Aug. 6, there were 1,923 active cases and 77 confirmed coronavirus-related death. The county reached a high of 2,597 active cases on July 27.
At the communication center, only dispatchers are allowed in the room. Temperatures are taken at the start of each shift and hand washing is second nature. A separate COVID hotline opened in March, shortly after the first confirmed positive case in Montgomery County, and is staffed by paramedics. Call volume fluctuates, with an average during the peak at about 400 per day.
A MCHD public service announcement encourages calling 911 to counteract a prevalent fear of exposure to coronavirus if transported to the hospital. The hospital district's 60-day comparison from parts of February to May 2020 to the same time frame in 2019 revealed a 30% increase in the number of people who died at home rather than calling 911. Their conditions included heart attack, stroke, infections, and various forms of trauma.
ALARM dispatches all medical calls for Montgomery County and fire calls for the City of Conroe, which covers a service area of 1,100 square miles with a population of over 500,000. The center processes 54,000 local calls for service a year. In addition, MCHD's ALARM manages over 4,300 calls for rural agencies through its Regional Emergency Medical Dispatch program.
The emergency dispatchers are EMD and EFD certified. Basic EMT licensure is a requirement with progression to Advanced EMT once hired. ED-Q™ certification is required of all calltakers.
Dispatch in action
A run-through of the MCHD Facebook page shows ALARM on even keel in the emergency response process. While the posts that follow barely scratch the surface of MCHD, they do illustrate how it takes the team to carry the EMS ball. Note: the events are in descending order and the dates are when the item was posted.
Jan. 22, 2020: It was an amazing day when our paramedics Tina Cerruti, Megan Steely and Chief Scott Sanders were reunited with Eric Taylor. Mr. Taylor suffered cardiac arrest and his wife performed CPR aided by our 911 dispatcher Destiny Lafferty until our team arrived on scene. Fast forward four months, Mr. Taylor has made a miraculous recovery thanks to the efforts of everyone involved. Way to go, team!
Jan. 14, 2020: District Chief Lois Clancy was reunited with the little boy she helped save during a traumatic accident in December 2019. Little Peyton fell and cut his arm on some Christmas decorations, so badly that it severed an artery. His mom Samantha called 911, and Lois calmly talked her through the steps to reduce the bleeding while they waited for paramedics to arrive. We're happy to report Peyton is doing great!
Jan. 6, 2020: MCHD Communications Center receives ACE for both Fire and Medical dispatch. ALARM is currently one of only two dispatch centers in Texas with both the Fire and Medical distinction, and one of only 35 in the world with the dual accreditation. This was ALARM's third Fire ACE.
Oct. 25, 2019: EMD Morgan Clark picked up the emergency call from Ashley Darville who was giving birth to her son, alone in the living room. Clark dispatched fire crews and paramedics to Darville's home, but the baby was not waiting for them to get there. Less than 10 minutes after calling 911, Abel entered the world. Clark has helped women give birth in an ambulance before but said this was the first time she talked someone through it over the phone. The moment she knew she had done something special was when she heard the baby cry over the phone.
Sept. 26, 2019: As Tropical Storm Imelda inundated Houston, 19-year-old Rachel Cangemi and her 5-month old baby Anthony slid into a flooded creek and their van began sinking. District Chief Tammy Parker, EMD, took their 911 call. The water was already up to the baby's head in the car seat. Parker asked Cangemi if she could unlock the doors, but she could not. Next, following EFD Sinking Vehicle Protocol PAIs, Cangemi smashed the window of her van and water began pouring in. She cleared the glass out of the opening and swam to shore holding her son. "This is what makes the job worth it," said Parker when meeting the Rachel and her son in an event sponsored by First Edition.
Sept. 1, 2019: Bill 1090 goes into effect.
Aug. 13, 2019: Adrian Heath did a U-turn, stopped and found Thom Dreier unconscious in his car. Heath called 911 and EMD Scott McCully asked him to do chest compressions and counted out for him, "One, two, three, four." "He was hesitant at first," McCully said. "So, I told him, you're the true hero here, I'm going to tell you everything you need to do. I just need your hands."
June 10, 2019: Governor Greg Abbott signs Bill 1090 recognizing 911 dispatchers as first responders.
May 8, 2019: Evelyn Huddleston says the last thing she remembers is hugging her 3-year-old great-grandson and telling him goodnight before waking up in the hospital. Mrs. Huddleston went into cardiac arrest in the middle of the night, and her husband heard her fall to the floor and called 911. Fortunately, her 30-year-old granddaughter jumped out of bed and was able to follow CPR instructions from EMD TJ Earhart until first responders arrived and took over her care.
Source
1 Pounds J. Texas now recognizes 911 dispatchers as first responders. Cleburne Times-Review, Texas. 2019: Sept. 5. https://www.ems1.com/legislation-funding/articles/texas-now-recognizes-911-dispatchers-as-first-responders (accessed Aug. 21, 2020).
MCHD Facebook Page at https://www.facebook.com/MCHDTX
More Articles
Now, more than ever, is the right time to learn how to control stress
Understanding Additional Info Definitions helps clarify when to use Protocol 135